Author: Janice Kay Johnson
Title: Snowbound [Modern Romance]
Description:
Outside a storm is raging...
When a blizzard strands Fiona MacPherson and her students in Oregon's Cascade Mountains, their only hope of survival is to seek shelter at Thunder Mountain Lodge. Their host is John Fallon, a handsome, enigmatic war veteran haunted by secrets and scars that may never heal.
--
John Fallon never imagined he'd be playing host to this captivating teacher and her eight teenage charges. But when his solitude is shattered by their arrival, his world shifts on its axis. He needs Fiona--but does she need him? There's only one way to find out. The ex-soldier must find the courage to reach out to the remarkable woman who has transformed his life....

Author: Jennifer Ashley
Title: The Care & Feeding of Pirates
Description:
Honoria Ardmore is as prim and proper as they come.
Her sole moment of indiscretion was when she fell for a roguish pirate. But he died--at least, that's what she assumed--until the night he showed up eager to pick up where they had left off....
--
Christopher Raine cheated death, and he believes life owes him his just rewards.
So he sets out to reclaim the woman of his dreams. And this insatiable pirate is not one to let trivial details get in his way. Despite her undeniable desire, Honoria claims she cannot be with Christopher.
--
And so they strike a deal:
She will allow him to seduce her every night of their journey. If by the end he fails to navigate his way into her heart, she will be free to leave. Honoria is about to learn that a woman should never doubt the cunning ways of a pirate with a plan.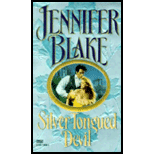 Author: Jennifer Blake
Title: Silver-Tongued Devil
Description:
THE ANGEL
He saved her life, then made her his prisoner. Now Renold Harden is demanding his due -- as Angelica Carew's new husband. How easy it would be to surrender to Renold's name, his protection, his passion. But there is something unreal about his words of love, his determined seduction...
--
THE DEVIL
Renold had conspired to wed and bed her, forcing Angelica into a hellish marriage for the sake of the dowry bestowed upon her: Bonheur, the plantation stolen from his family. His bride would pay the price for her father's greed and trickery, every day -- and night -- for the rest of her life...
--
ONLY HER LOVE COULD SAVE HIM
Days of torment melt into nights of searing ecstasy as Angelica helplessly surrenders to the man who deceived and betrayed her. For what began as an act of vengeance becomes heedless, burning love -- as the devil who ensnared her heart with duplicity dares to show her the meaning of forgiveness and the magic of forever...



Author: Jill Barnett
Title: Wild
Description:
Shunned by superstitious villagers, Teleri of the Woods learned early that the world is a frightening place.
For years she has lived hidden away in a dark forest, where her only friends are the creatures of the woods. But when she finds a gravely wounded knight, her sanctuary is safe no more.
--
With his legendary skills in war and diplomacy, Roger FitzAlan had been sent to establish a stronghold on the Welsh borderlands.
Ambushed and left to die by an unknown enemy, Roger must now battle for more than his life -- he must win the trust and love of the wild young woman who has every reason to fear him.
--
Roger knows he cannot live in Teleri's world, and she is afraid of his. Once he recovers, Roger is determined to find the one who tried to kill him. And Teleri must choose whether to stay secluded with a broken heart -- or to trust this powerful warrior who has threatened all she holds dear. Together they journey to a place where duty is everything, where a man's honor -- not his heart -- must guide him. There, amid the dangerous secrets of the past, they will risk everything in search of a love that is forever.



Author: Jillian Hunter
Title: The Love Affair of an English Lord
Series: The Boscastle Family - BOOK II
Description:
When Chloe Boscastle is caught indiscreetly kissing a man in a park, her brother Grayson -- the protective patriarch of the Boscastle family -- sends her off to a country manor to stay until the scandal in town subsides.
--
Soon after Chloe's banishment begins, she is shocked to learn that her neighbor Dominic Breckland, the devilish Viscount Stratfield, has been killed in his bed. But she is even more stunned to discover the dangerously handsome "victim" taking refuge in her lingerie closet one night. By some miracle Dominic has survived his attack -- and wishes the world to believe him dead. Can the alluring Lady Chloe keep his secret? Dominic uses all his masculine charm to persuade her as they work together to unmask his enemy. Of course, being caught sheltering a seductive scoundrel could further mar Chloe's already tarnished reputation. But, really, what's a little scandal to a lady in love?



Author: Jillian Hunter
Title: The Wedding Night of an English Rogue
Series: The Boscastle Family - BOOK III
Description:
Lord Heath Boscastle's attraction for Julia Hepworth begins with a bang.
She shoots him at a hunting party -- accidentally, of course. Though the shot grazes his shoulder, her beauty pierces his heart. Sparks fly soon after when they find themselves dangerously close to a compromising position. Too inexperienced to understand such overwhelming emotions, Heath and Julia part ways.
--
Now, years later, Heath is a high-ranking intelligence officer, asked to protect his commander's fiancee, Julia, while he chases down an elusive spy.
Heath quickly regrets his promise when he meets Julia again -- and their mutual desire still burns hotter than ever. Of course he will protect her. There is danger in the air. And Heath would never think of betraying his friend, until he learns that Julia herself has been betrayed. Suddenly seduction Boscastle style is the name of the game. Yet Julia has a trick or two up her own sleeve -- and is determined to be a player, and not a mere pawn, in his wicked game.



Author: Jo Beverley
Title: The Secret Wedding
Series: The Mallorens - BOOK IX
Description:
At the age of seventeen, Christian Hill impulsively defends young Dorcas Froggatt's honor--and finds himself forced into marriage.
That doesn't stop him from pursuing his military career abroad, where he swiftly puts his young bride out of his mind--until the past comes back to haunt him.
--
Not long after her traumatic marriage, Dorcas hears that her new husband, Hill, has died in battle.
She's shocked to discover that he's not only still alive, but searching for her. She's determined not to sacrifice her independence, not expecting the true dangers she'll soon face and, even less, the true love she'll discover with the man who rescued her all those years ago.



Author: Johanna Lindsey
Title: Once A Princess
Description: [From Fictiondb]
ONCE UPON A TIME...
In a rustic Mississippi tavern, a beautiful exiled princess was forced to dance for the pleasure of others--unaware of her regal birthright ... and infuriated by a magnificent, golden-eyed devil who crossed an ocean to possess her.
FROM A FAR OFF LAND...
A bold and brazen prince came to America to claim his promised bride. But the spirited vixen spurned his affections while inflaming his royal blood with passion's fire... impelling virile Stefan Barany to take in sensuous and searing conquest the love young Tatiana vowed never to yield.



Author: Judith Ivory
Title: Beast
Description: [From Fictiondb]
THE BEAUTY
An exquisite American heiress, Louise Vandermeer is beautiful, brilliant. . . and bored--which is why she has agreed to a daring adventure: to travel across the ocean to marry an aristocrat abroad. Rumor has it her intended is a hideous cad--a grim prospect that propels her into a passionate, reckless affair with a compelling stranger she never sees in the light of day.
THE BEAST
Though scarred by a childhood illness, Charles d'Harcourt has successfully wooed Europe's most sophisticated beauties. For a lark, he contrived to travel incognito on his own fiancee's ship--and seduce the young chit in utter darkness. But the rake's prank backfired. It was he who was smitten--while the hot-tempered Lulu, now his wife, loves only her shipboard lover, unaware it was d'Harcourt all the time! And Charles will never have her heart--unless he can open her eyes to the prince who hides within.



Author: Julia Quinn
Title: Dancing At Midnight
Description: [From Fictiondb]
Defying the Rules
Lady Arabella Blydon can sense the secrets smoldering behind the dark, penetrating gaze of Lord John Blackwood. Still she desires his handsome, mysterious stranger who stirs her passions like no other mann -- even as he warns her to stay away.
--
War scarred Lord John's body and soul. But this brazen, intoxicating, infuriating bluestocking poses an even greater threat: she is forcing him to care again. For Belle is a woman of bold, independent spirit, equally unconcerned about society's petty restrictions and love's hidden perils. And the beautiful, determined schemer will not rest until she returns joy and light to the damaged lord's life...and wins a place in his shuttered heart forever.



Author: Julie Garwood
Title: The Prize
Description: [From Fictiondb]
1066.In the resplendence of William the Conqueror's London court, the lovely Saxon captive Lady Nicholaa was forced to choose a husband from the assembled Norman nobles.
She chose Royce, a baron warrior whose fierce demeanor could not conceal his chivalrous and tender heart.
A resourceful, rebellious and utterly naive, Nicholaa vowed to bend Royce to her will despite the whirlwind of feelings he aroused in her. Ferocious in battle, seasoned in passion, Royce was surprised by the depth of his emotion whenever he caressed his charming bride.
--
In a climate of utmost treachery, where Saxons still intrigued against their Norman invaders, Royce and Nicholaa revelled in their precious new love... a fervent bond soon to be disrupted by the call of blood, kin and country!