Author: Barbara Metzger
Title: Truly Yours
Series: Royce Lie Detectors - BOOK I

TRUE COLORS
--
Amanda Carville has no friends, no family, no dowry, no reputation, and no one who believes her innocent of murdering the man responsible for her misfortunes. Why should they, when she was found holding the gun that killed her stepfather?
--
Viscount Rexford has troubles of his own. He's scarred by a war injury and cursed--or blessed--with the family gift of knowing the truth when he hears it, and his success at extracting the truth from military prisoners has left many doubting his honor and his methods. When Amanda tells him she didn't pull the trigger, he knows she's true-blue. But Rex is retired from the truth business, and he refuses to get involved in her desperate case... until his heart gives him no choice.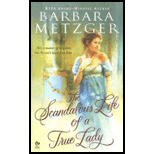 Author: Barbara Metzger
Title: The Scandalous Life of a True Lady
Series: Royce Lie Detectors - BOOK II

TRUE DECEIT
--
Harry Harmon has already written his own obituary--that is, the obituary for the old spymaster Major Harrison, one of his aliases. After his alter ego's staged death, Harry's next assignment is to spy on enemies at a country house party. To do that, he'll require a courtesan who is learned, truthful, and beautiful.
--
With no guardian, dowry, or references, sensible, smart Simone Ryland has come to Mrs. Burton's bawdy house in search of work. But when the madam notices the virgin's regal, exotic beauty, she packs her off with Harry. Soon Simone, fearful of what she's heard only in whispers, is in for something truly thrilling--something that looks a lot like love.



Author: Barbara Metzger
Title: The Wicked Ways of a True Hero
Series: Royce Lie Detectors

HONORABLE INTENTIONS
--
Daniel Stamfield is invaluable to the British army for his ability to detect truth from lies. But after years of service, he finally takes a respite for some wine, wenches, and wagering. Unfortunately Daniel doesn't bet on lovely Miss Corisande Abbott and her unsavory reputation swaggering back into his life.
--
Corie despises Daniel for standing in the way of her elopement with Lieutenant Snelling. Despite Daniel's presence, she is determined to find a husband during London's debutante Season to gain freedom from her abusive father. But to her surprise, Daniel comes to her rescue as rumors of her questionable past flit about London. He even agrees to fake an engagement.
--
Yet as time passes, Daniel realizes he wants to make an honest woman of Corie--and an honest man of himself.