Author: Hannah Howell
Title: Highland Destiny
Series: The Murray Clan - BOOK I

When destiny brought Sir Balfour Murray and his wounded brother down the same road as Maldie Kirkcaldy, she offered her services as nurse even as she tried to deny the desire this dark-eyed knight had ignited at first sight.
Soon they discover that they both share a mission of vengeance, but Maldie cannot tell him her true identity--to do so would brand her a spy...
--
Sworn to avenge his family as chief of the Doncoil Clan, Balfour vows to destroy his greatest foe, Beaton of Dubblinn, with Maldie at his side. Yet Balfour knows that he can no more afford to trust her than he can ignore his lust for his sultry beauty. Now, he is not only determined to unearth her deepest secrets, but also to pursue his passion for her. And nothing will stand in his way--even if it threatens to divide his clan...

Author: Hannah Howell
Title: Highland Honor
Series: The Murray Clan - BOOK II

Nigel Murray saw through her masquerade from the first: a young woman trying to pass herself off as a page.
It almost worked - until she was unmasked in battle with the English, at the point of a sword. Recklessly Nigel saved the raven-haired beauty whose secrets now endangered them both. He spirited her off to Scotland, determined to erase the terror he tasted in her kiss.
--
Gisele knew the dark side of men, having barely escaped the brutality of her highborn husband, Lord Deveau.
Now, with Deveau murdered and a price on her head, she was every man's prey - hunted for a crime she did not commit. Nigel is her only refuge, a handsome stranger who challenged her with a fiery sensuality that burned all fear in its wake. But to truly trust him, Gisele must put the past behind her, and let her heart accept the simple truth...of his undying love.



Author: Hannah Howell
Title: Highland Promise
Series: The Murray Clan - BOOK III

Eric Murray was the youngest of his brothers, determined to gain his rightful inheritance after thirteen years of bitter dispute with his father's family.
Starting out alone to confront his tight-fisted kinsmen, he encountered a chestnut-haired beauty set upon by thieves. When she begged for Eric's protection for herself and her infant nephew, Eric promised to deliver them to the safety of her family.
--
Bethia Drummond desperately tried to ignore her attraction to the azure-eyed stranger.
Still, Eric Murray was Bethia's only hope of escaping her ruthless kin who planned to kill her and her orphaned nephew, and claim their inherited land. Then Bethia learned that Eric, too, was seeking land and coin from his own kin -- her family's closest allies. How could she love a man she might one day be forced to stand against? And yet she could not ignore what her troubled heart knew -- that this proud knight had more than inspired her deepest passions ... he had become her very destiny.



Author: Hannah Howell
Title: Highland Vow
Series: The Murray Clan - BOOK IV

Ten years ago, young Elspeth Murray rescued a wounded young knight and lost her heart forever.
Now a stunning beauty and gifted healer, she is reunited with Cormac Armstrong when he saves her from an unwanted suitor. But Cormac is promised to another, a woman who has blinded him to her ruthlessness. Now Elspeth must battle against the odds to claim a man and a love she will not be denied.
--
Cormac is stunned by the desire Elspeth's kiss awakens, tries to resist--and fails--the temptation she offers.
A man of honor, he is torn by his pledge to another and his growing need for Elspeth. Blinded by duty and indecision, he is unaware that he is a pawn in a clever and deadly trap from which Elspeth is desperate to save him. But by the time he understands her gift of selfless devotion will it be too late to claim this perfect love?



Author: Hannah Howell
Title: Highland Knight
Series: The Murray Clan - BOOK V

When Cameron MacAlpin learns the identity of the golden beauty tossed before him as a debt payment, he can't believe his fortune!
For cat-eyed Avery Murray is the perfect weapon to use against Payton Murray--Avery's brother--who dishonored Cameron's own sister. Yet his plan to deliver the same insult and avenge his clan is thwarted by spirited Avery herself, who tempts him to forget everything but the passion coursing through his blood. Still, a knight of the Highlands owes his allegiance to his clan before all else--even his heart.
--
Avery is outraged at her captor's accusations against her brother.
Though he makes no secret he intends to use her to avenge his sister's lost honor, he adds to her fury by vowing to take her by seduction not force. Worse, she knows deep inside that this virile knight stirs her as no other man ever has. Courageously, passionately, she gives him freely what he vows to take--her body and her heart, knowing that she can lose all on the chance of everlasting love...



Author: Hannah Howell
Title: Highland Bride
Series: The Murray Clan - BOOK VI

Though she has yet to be courted by any man, spirited Gillyanne Murray decides the time has come to visit the dower lands gifted to her by her father's kinsmen.
She arrives to find the small keep surrounded by three lairds, each one vying for her hand...and property. Though resolved to refuse them all, the threat of battle on her threshold forces her to boldly choose a suitor: Sir Connor MacEnroy, a handsome, daring knight of few words.
--
As his wife, Gillyanne is stunned by his terse, cold distance--and her own yearning to feel passion in his arms.
Now, bringing her healing touch to a land and a keep ravaged by treachery and secret enemies, she dares to reach out for the one thing she fears she may forever be denied...her husband's closely guarded heart.



Author: Hannah Howell
Title: Highland Angel
Series: The Murray Clan - BOOK VII

Sir Payton Murray's reputation as a lover is rivaled only by his prowess with the sword, yet it is the latter gift that has captured the interest of Kirstie MacLye.
Fleeing a murderous husband who left her for dead, she vows to expose the man for the vile scoundrel that he is. She also knows it will take planning, cunning, and the help of a brave, arrogant, and willing champion. Kirstie only prays that Sir Payton will accept her challenge.
--
Risking the ire of his own clan and hers, Payton nonetheless cannot ignore Kirstie's desperate plea or her captivating beauty.
For he knows that nothing will deter the spirited lass from bringing an evil man to justice, even if she must do it alone. Joining her on this crusade, he embarks upon a dangerous quest against a powerful enemy only too eager to destroy them both. And as they venture into a treacherous world of blood and honor, Payton must fight for his life and his heart, locked in battle to claim the love of his...



Author: Hannah Howell
Title: Highland Groom
Series: The Murray Clan - BOOK VIII

Sir Diarmot MacEnroy, deciding his illegitimate children need a mother and his keep needs a proper lady, now stands before the altar with a gentle bride he hopes is too shy to disrupt his life or break his heart.
The nuptials, however, are interrupted by the appearance of a flame-haired beauty carrying two babies, boldly claiming that she is his wife and mother of his twin infant sons. Armed with her seven very large brothers, she has come to demand her due.
--
Having waited one year for the return of the handsome laird who wed her, bedded her, then disappeared, Ilsa Campbell MacEnroy takes matters into her own hands and sets out to reclaim the man she briefly and passionately loved.
Stunned by his denial, her heart softens when she learns of the injury that has ravaged his memory. Now, she faces the nearly impossible task of conquering his past--and his fierce reluctance to share his heart. Though desire flares hot and wild between them, it will take more to win his trust. It will take the magic touch of a woman in love...



Author: Hannah Howell
Title: Highland Warrior
Series: The Murray Clan - BOOK IX

Fleeing an obsessed suitor, Fiona MacEnroy rides recklessly into Scotland's wildest hills and is captured by a horde of well-armed men.
Instead of battling for her life, she finds herself swept away by a powerful stranger and carried off to a remote, forbidding keep. Oddly, here at Scarglas, a place shrouded in mystery and the black reputation of the rogue clan MacFingal, Fiona feels a strange, comforting sense of safety...and a consuming passion for its rugged laird.
--
Spellbound by Fiona's beauty yet determined to fight the longing she ignites, Ewan MacFingal plots to ransom Fiona back to her kin.
Sworn to protect his eccentric clan against the dangers invading Scarglas, he refuses to be weakened by the power of a woman whose every glance and touch tell him that she is everything his heart desires. Now, as pride and passion war within, dark peril and forbidding secrets will force them to trust what has yet to be spoken--the unshakable power of a timeless love.



Author: Hannah Howell
Title: Highland Conqueror
Series: The Murray Clan - BOOK X

Lady Jolene Gerard is running out of time--each moment she remains within the walls of Drumwich Castle she is in jeopardy.
Her only chance lies with a prisoner chained to the dungeon walls, a Scotsman who, in return for freedom, helps Jolene and her young nephew escape her cousin's deadly snare. Pursued by murderous villains, Jolene is prepared for to fight for her life. But in the arms of rugged Sigimor Cameron, she soon surrenders her heart...
--
He was too late to save the Englishman to whom he owned a blood debt, but not the man's lovely sister.
Stunned by his desire for the spirited English lass, Sigimor presses them on to safety, his enemies in dogged pursuit. And while sweet desire speaks a thousand words, the secret they long to share remains locked in a battle of stubborn pride. But when saving Jolene from his enemy leaves Sigimor no choice but to make her his wife, a bargain born of passion can only by sealed by the kiss of true love...



Author: Hannah Howell
Title: Highland Champion
Series: The Murray Clan - BOOK XI
Description:
A masterful tale of glory, honor and passion in this sweeping adventure of a proud woman who refuses to believe in love--and the fiery Scotsman determined to change her mind...
--
Liam Cameron is certain he's died and gone to heaven when he opens his eyes to the angel before him. But the pain that wracks his body proves he is still earth-bound. Keira Murray MacKail saved Liam's life--and he has some enticing ways he would like to thank her. Soon, lust gives way to a feeling much more profound for a woman whose battles he wants to fight...though he fears the most difficult one will be for her heart...
--
Keira quickly learns that Liam has danger chasing him. As her healing kindness frees him to tell his tale, she confides the trouble that plagues her: she is a laird's widow now responsible for saving a small village pillaged by cruel invaders. But even as Liam makes the crusade to reclaim her lands his own, he will face a far greater challenge to win her trust--and her love--for all time...



Author: Hannah Howell
Title: Highland Lover
Series: The Murray Clan - BOOK XII

Sensual tale of lovers both tempted and tormented by their own passion...
--
A reckless need to break free of his family led Gregor MacFingal Cameron on a quest for a rich bride, only to fall prey to kidnappers and be tossed into a cold cell.
He is soon joined by a frightened young woman who makes him regret his mercenary search for a wife. After a daring escape, he gladly joins Alana Murray's quest to rescue her sister, and soon temptation leads to seduction, with unspoken promises easily made, but harder to keep.
--
Alana knows the bond forged by danger and desperation has earned her an ally willing to fight for her sister's cause.
But Gregor's tantalizing seduction leaves her breathless, and she seizes her one chance to experience true passion before an arranged marriage seals her fate--never anticipating the inescapable intensity of a man and a love that will change everything...



Author: Hannah Howell
Title: Highland Barbarian
Series: The Murray Clan - BOOK XIII

Sir Artan Murray was right when he decided that the dying old man who bid him collect his niece didn't know her at all.
The furious woman facing him is neither "sweet" nor "biddable." She demands the brawny Highlander return her to the wedding party from which he took her. But Artan has no intention of allowing so spirited and bewitching a creature to endure a loveless marriage to a ruthless lord for her clan's sake. He aims to woo the lass and to show her that true love also yields unforgettable pleasure...
--
Cecily Donaldson knows a bond forged by danger and desperation cannot endure.
But Artan's touch leaves her breathless, and she knows this to be her one chance to experience true passion before an arranged marriage seals her fate. Yet once begun, passion cannot be denied...nor can a love with the promise to change everything...



Author: Hannah Howell
Title: Highland Savage
Series: The Murray Clan - BOOK XIV

A man's destiny lies in the heart of the woman who once betrayed him...
--
Beaten and left for dead, Sir Lucas Murray is a man wounded in body and soul.
He has brought himself back to becoming the warrior he once was--except for his ruined leg and the grief he feels over the death of the woman he once loved...the same woman who led him into his enemies' hands.
--
Dressed as a masked reiver, it is Katerina Haldane who saves Lucas as he battles for his life--and for revenge.
Shocked that she still lives, Lucas becomes desperate to ignore the desire raging through his body. And Katerina becomes desperate to regain his trust, trying to convince him of her half-sister's role in his beating. Lucas is reluctant to let down his guard, but his resistance melts once Katerina is back in his arms...and his bed. Now he must learn to trust his instincts--in battle and in love...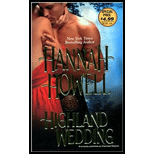 Author: Hannah Howell
Title: Highland Wedding
Series: The Murray Clan - BOOK XV

An arranged marriage becomes a true joining of hearts...
--
The vivid scar that spans Sir Iain MacLagan's cheek is a daily reminder of the wife he lost--and of the enemy that still stalks him.
Commanded by Scotland's king to remarry in order to unite two powerful border clans, Iain reluctantly weds Islaen MacRoth, a woman whose delicate appearance belies a playful, seductive nature that proves dangerously attractive to a man who has vowed never to jeopardize his heart, or his loved ones, again...
--
Raised with eleven boisterous brothers, Islaen has little time for foolish romantic notions.
Even so, she hoped for more than a forced marriage to a man who shares her bed, but not her life. Step by step, Islaen sets out to wear down Iain's defenses. But can her ruggedly handsome husband learn to give her his love as freely as he bestows his passion?



Author: Hannah Howell
Title: Highland Wolf
Series: The Murray Clan - BOOK XVI

Annora MacKay senses a disturbing evil in Dunncraig Keep, the estate acquired by her cousin, a cruel and ruthless man.
Only her affection for the tiny girl he claims is his daughter stops her from fleeing. Then a mysterious woodcarver arrives at the castle, and she cannot stop thinking--or longing--for him...
--
James Drummond, once a laird now an outcast, wants what was stolen from him--his good name, his lands, and his child.
His disguise for getting into Dunncraig is step one of his plan, but the enticing raven-haired woman who cares for his daughter is an unwelcome surprise. For he has come seeking justice, not love...



Author: Hannah Howell
Title: Highland Sinner
Series: The Murray Clan - BOOK XVII

A seductive knight and a mysterious young woman unite to stop a murderous enemy...
--
Sir Tormand Murray is certainly a rogue, but a callous killer? Never.
Yet he cannot explain how he came to wake up next to the butchered body of one of his former lovers. Someone is prepared to kill again and again until Tormand is found guilty and hanged. And his only hope of discovering the culprit lies with Morainn Ross, a reclusive, sensual beauty gifted with second sight.
--
Branded a witch, Morainn has never met a man who accepted her strange talent, much less one who could so easily enflame her passion.
There's no resisting Tormand's rugged masculinity--and no escaping the enemy who grows more twisted every day. And even as logic decrees that a lasting union is impossible, Morainn knows her destiny is bound forever with the knight who has claimed her, body and soul.



Author: Hannah Howell
Title: Highland Protector
Series: The Murray Clan - BOOK XVIII

Someone would see Ilsabeth Murray Armstrong hang for murder.
When her dagger is found in the body of one of the king's men, there is little room for doubt - the perpetrator must pay with her life. But Ilsabeth is no killer, and only one person can help clear her name: Sir Simon Innes, a man so steely and cool that no danger can rattle him...
--
And no woman in distress can sway his heart. Until now.
Simon has spent his life searching for truth in a world fraught with deception. But the hauntingly beautiful fugitive seeking his aid affects him so deeply, he wonders if he can trust the flawless judgment he has always relied on, For all signs point to Ilsabeth's guilt, except one - the unparalleled desire he feels at her slightest touch...